Don't let your data go unanalyzed!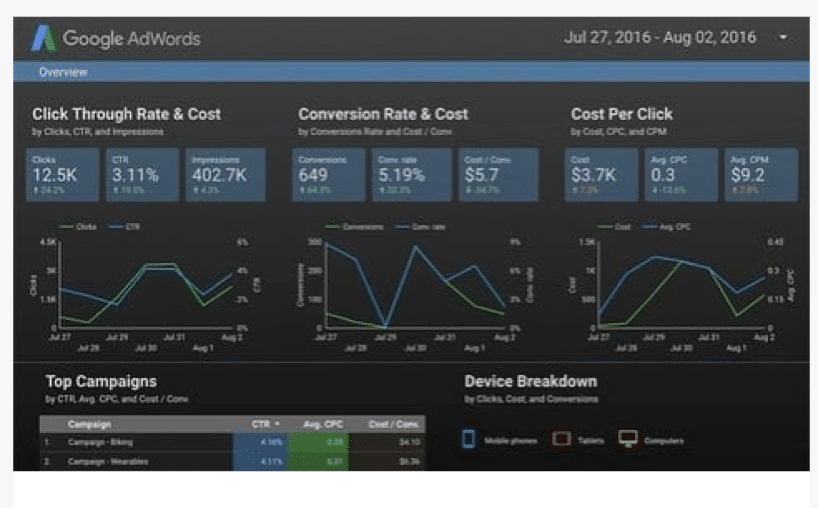 "In God we trust, all others must bring data." — W. Edwards Deming.
So true! But data is meaningless if you don't have a way to interpret it. Analyzing data in the right way can help you increase sales, boost blog subscribers, reach more people with ads – or achieve just about any goal, for that matter.
Here are 5 tools digital marketers use to analyze data. No matter what your market is, or what data you're analyzing, these dashboards can be configured to do what you need.
Prices range from $14 to $1,999 a month. Each tool has different capabilities, customization options, and functionalities.
If you want to integrate with data outside your website, Klipfolio is the best option. It integrates with FB, Google and Hubspot. It works with almost any data source. The only drawback is it's a bit time-consuming to set-up.
A quicker and easier option is Geckoboard. It has a user-friendly interface and starts at $24 per month.
For an even simpler dashboard, try Cyfe. Starting at $19 per month (or $14 per month paid annually) Cyfe is perfect for beginners. Keep in mind the integration capacity is a bit limited compared to the bigger players on this list.
If you need a powerful tool to crunch a massive amount of data, get Tableau. The functionality is way up there, but so is the price.
Last but not least, Google's Data Studio. Still in early stages, but offers easy integration with Google Analytics, Adwords and Youtube. Plus, the beta is free.
There are more tools out there, but this is a good start. Most offer a free trial, so why not give them all a try?
Pros: Flexible, can use it virtually with any data source. "Klipfolio supports direct connections to over 100 cloud applications like Facebook, Twitter, Moz, Pingdom, Salesforce, Marketo, Google Analytics, Google Adwords, Xero, HubSpot and more. "You can connect your Klipfolio dashboard with MSSQL, MySQL, Oracle Thin, Oracle OCI, Sybase SQL Anywhere, PostgreSQL, Firebird, and DB2."
Cons: Harder to learn than other dashboards, and not as suitable for beginners.
Customization Options: Has many customization options but will take awhile to understand and get a hang of using everything it has to offer.
Price: Starts with $24 per month.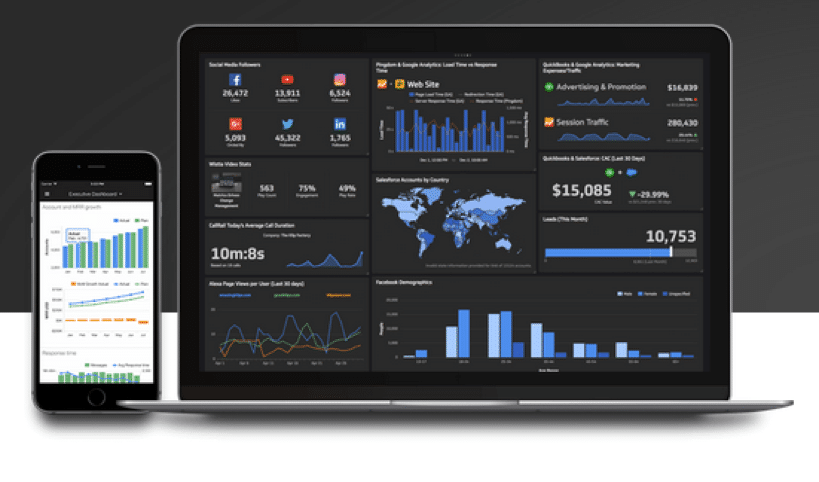 Image Source: Klipfolio
Pros: Simple, easy to understand interface, it has a different dashboard interface specifically designed for different teams such as Sales, CEO, Marketing, Web analytics, and Support.
Cons: Geckoboard only has an Ios app. This is a disadvantage for non-Apple users.
Customization Options: This tool has a great variety of customization with a lot of integration options.
Price: Starts with $25 per month.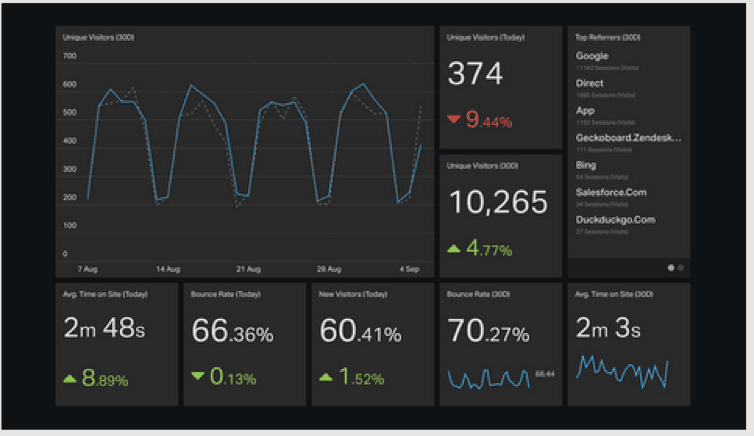 Image Source: Geckoboard
Pros: Free for up to 5 dashboards, simple and similar to Geckoboard, with many integration options. Custom widgets-many ways to present data set."all-in-one business dashboard app": "Social media, analytics, marketing, sales, support, infrastructure… monitor everything"
Cons: There is less step-by-step instructions for setting up Cyfe available compared to other dashboards.
Customization Options: Graphics are a bit different than the usual. The dashboard is less symmetric and deviates from the normal presentation graphs/charts.
Price: Starts with $19 per month or $14 per month paid annually.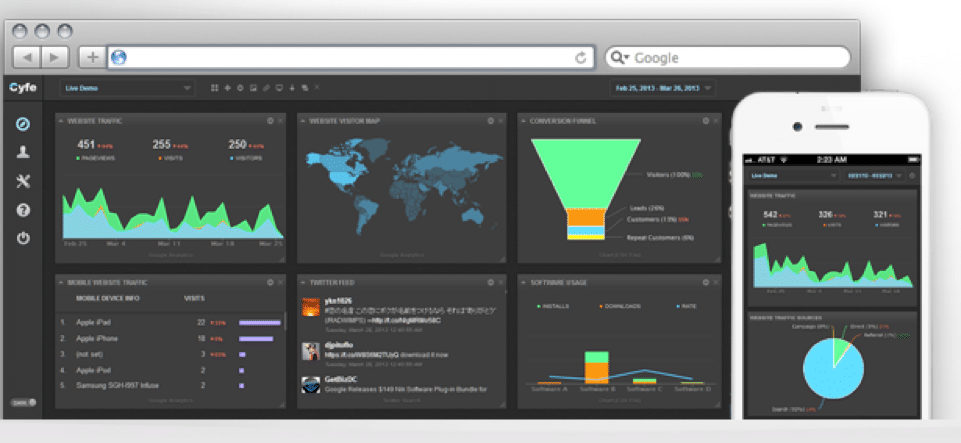 Image Source: Cyfe
Pros: Is very powerful, and can be used for a wide range of data analytics. Tableau supports multiple data sources: MS Excel, Oracle, MS SQL, Google Analytics and SalesForce." It is free for personal users and Tableau offers free courses to learn how to use their product.
Cons: It might not be necessary for small companies looking for a simple dashboard. It is most useful for in-depth data analytics at usually larger organizations.
Customization Options: Three products: Tableau Desktop, Tableau Server, Tableau Online which offers the right tool for the right application.
Price: Free for personal use, around $999 for 6 data sources, $1,999 for 44 data sources.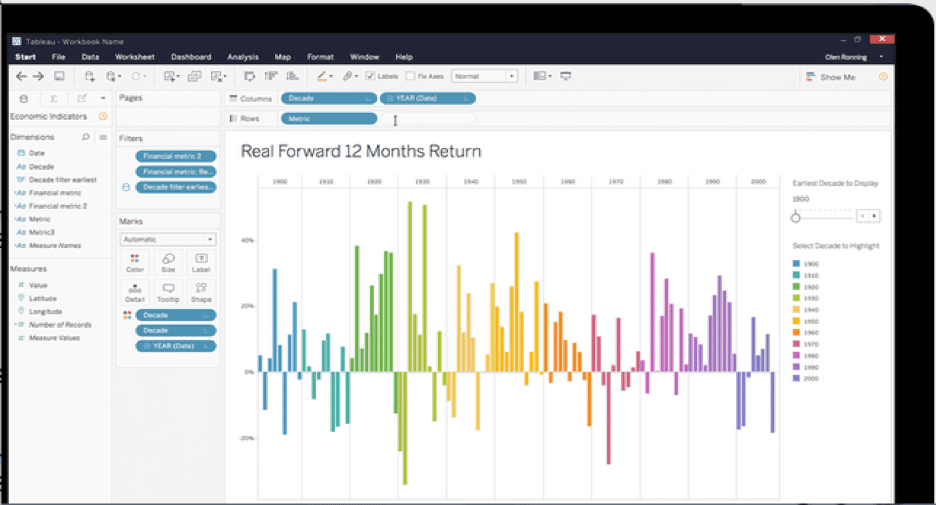 Image Source: Tableau
Pros: Google Data Studio can be easily connected to Google Analytics, Adwords and Youtube Channels. "The Google Analytics 360 Suite combines analytics, tagging, site optimization, data visualization, market research, attribution, and audience management into a powerful measurement solution for your business."
Cons: Since it's currently a Beta version, it doesn't have many integration options.
Customization Options: For all of Google's products, how the data is displayed can be customized.
Price: Beta version is free. For the 360 Suite, those interested, have to contact Google through an online form to receive pricing information.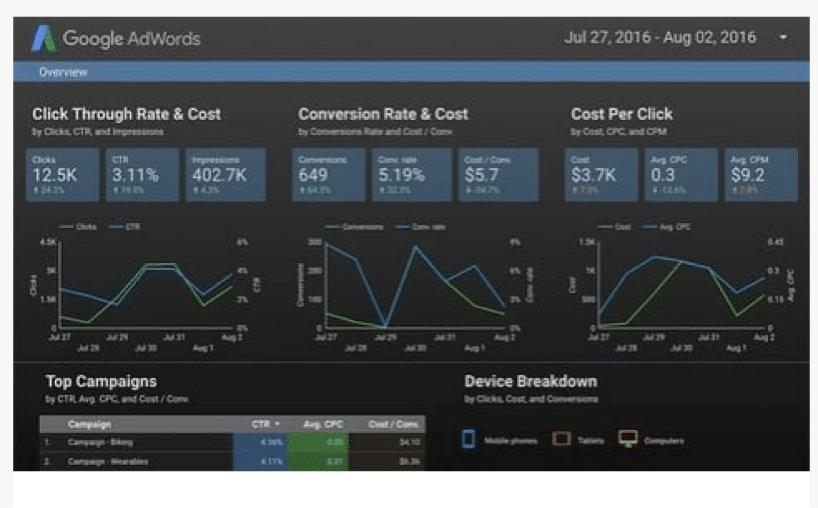 Image Source: Google Data Studio