Video Ads Guide Brands to New Purchases

YouTube has over one billion users, amounting to nearly one third of people on the internet.
More than 500 million hours of video are watched on YouTube every day.
One-third of online activity is spent watching video.
85% of the US internet audience watches videos online.
Consumption of Youtube videos continues to climb across every demographic.
These statistics show how beneficial video can be in driving in business objectives as an e-commerce company. Videos can be used to reach customers who are both upper funnel and mid funnel in the purchase path.
Google Video Ads are perfect for driving awareness of your product or service by targeting a specific audience. First, you can target an audience that has shown interest based on their previous search behavior and/or viewing habits. You can also target a specific audience based on demographics and interests. One way to do this is place ads on YouTube videos, YouTube channels, websites, or apps that you believe your audience may be interested in.
There are several ways an ad can be placed. First, ads can be placed in-stream, either before or after the video plays. Second, a discovery ad is that which is shown to users who are searching for similar YouTube videos. A third type is an ad displayed on Google's Display network, adjacent to similar ads on Google partner sites.
A benefit to Google ads is their TrueView method. The two types of TrueView ads are in-stream ads and video discovery ads. With in-stream, the ad plays before or during a video a user has chosen to watch. The ad plays for 5 seconds — at which point the user has the option of watching or skipping. You only pay when a) a viewer watches at least 30 seconds or until the end of the video, whichever is shorter, or b) a viewer clicks on a card or other elements of your ad. The second type of ad, a discovery ad, appears alongside other YouTube videos, in YouTube search results, or on websites within the Google Display Network. With this type of ad, you only pay when a viewer chooses to click, and therefore watch, your ad. Because the viewer has shown interest in your ad, you are likely to have reached someone with more potential to buy your product.
Bumper ads are another way to drive awareness to your product. These snackable format ads are only 6 -seconds long and are sold on a CPM basis. Bumper ads are mobile friendly and provide a great way to reach your on-the-go audience or to complement longer form TrueView ads.
Those in the e-commerce world can link your Google Merchant Center account to Google and have the ability to show TrueView Shopping Campaign Ads. These allow you to display your products and "shopping cards" within the videos. When someone clicks the ad, they are taken directly to the product page on your website. You can display up to 6 cards in one ad at a time.
Take a look at how Sephora/Wayfair has created a successful ad campaign.  Within their "How- To" videos are links to specific products shown within the video. This allows the brand to connect with its audience versus strictly trying to sell to them. These ads can be set in two ways: an ad will either show products the viewer has previously shown interest in on your website (remarketing), or it will use filters to show products most relevant to the ad content.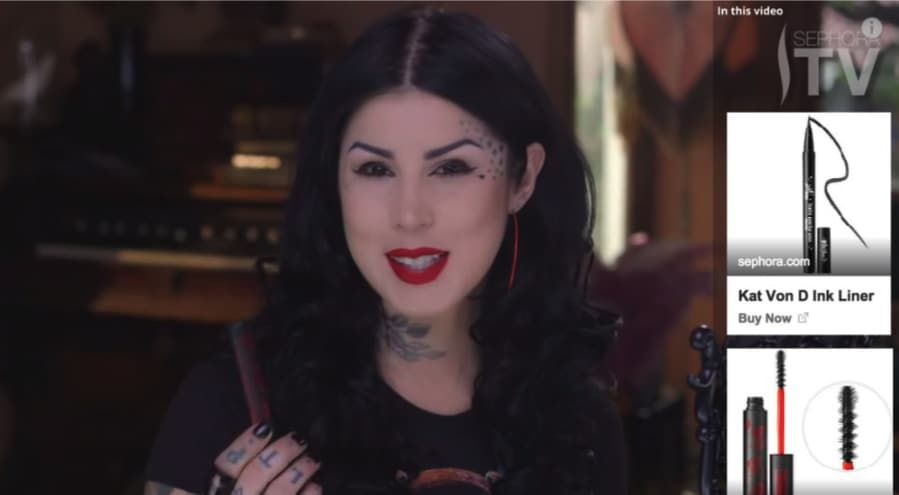 For more information, check out the following success stories and resources for Google video ad marketing.
LSTN Headphones advertised their video on YouTube to share their story.
Colgate Optic White's Video Strategy
Driving Sales for Retailers With YouTube's TrueView for Shopping
YouTube Bumper Ads – Making a Big Impact with Small Stories
YouTube Playbook for Creative Advertising
If you would like help defining your video advertising strategy, please reach out to us. We'd be happy to help.