Digital Marketing Updates and Social Media News from Q2 of 2020

We can't believe that this year is already halfway over! It feels like we were just tracking Q1 updates. At Zora Digital, we're continuing to power through with working from home, and it looks like social media execs are doing the same because wow, the social media updates did not stop. Most of these updates have presented new ways to accommodate our new normal.
Before we dive into our summary of the last three months, catch up on our 1st quarter 2020 report here.
Now onto Q2 2020.
YouTube is helping viewers get to the content they want to see right away.
Google introduced a new app to compete with Pinterest. They're also launching a new video series to connect audiences worldwide with thought leaders in the digital world.
Pinterest and Instagram are making shopping easier for their users with new features.
Facebook's new 'Shops' hopes to empower small businesses affected by the pandemic.
Twitter's updates let users have more control over who interacts with their content.
YouTube
The second quarter was busy for YouTube. In May, this video and vlogging hub that started testing chapters in videos. Brands and influencers can section their videos in chapters. This way viewers can skip ahead to the content that they want to see. Here's an example of how it functions: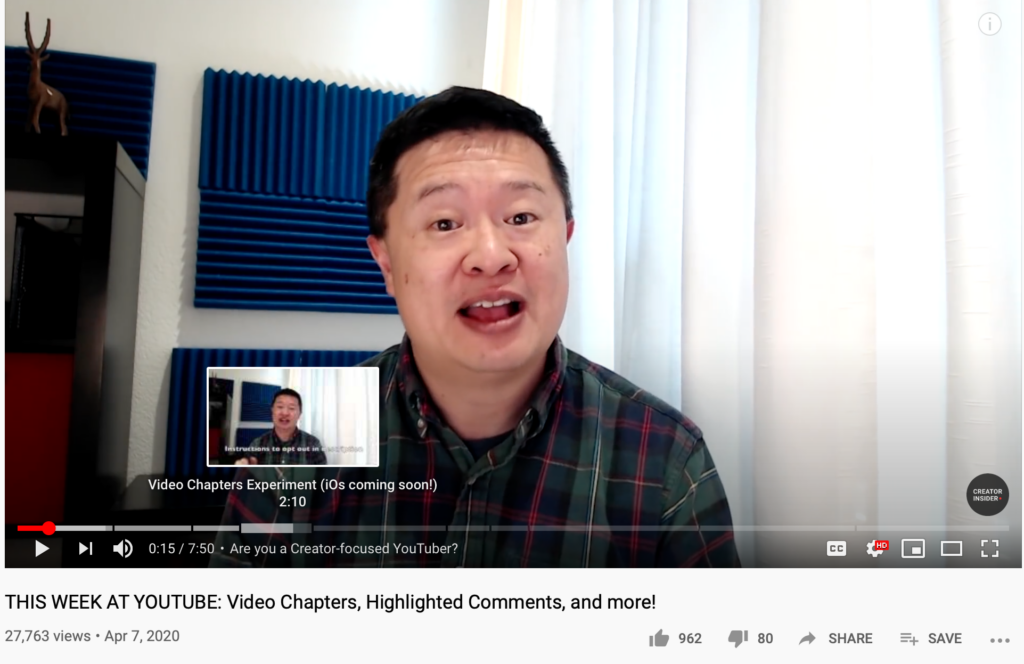 YouTube also added a new analytics feature so creators can see how their content is performing on a monthly basis.
Lastly, while content creators are taking advantage of live content due to COVID-19, they're also using this time to sell their own merch. YouTube has created alerts that come up as comments when a purchase is made through Teespring during live streams.
Google
Digital media thought leaders and marketers all around the world will be coming together for Google's new video series called, 'The Update.' Marketing leaders and industry experts will talk about how data impacts the current digital climate and the best products to help you adapt to the 'new normal.' The Update will help marketers understand digital marketing amid COVID-19, provide insights in the latest trends and marketing strategies.
In late June, Google launched a new app to compete with Pinterest's eCommerce search functionality called Keen. Keen is a web and Android app that allows users to create boards called Keens and save images of the items that they're most interested in. For example, a user could make a Keen called, "Recipes," and use the search function to find recipes that they would like to try. With this app, you can share your interests with loved ones by sharing your Keens and find new content based on what you've saved. Does that sound familiar?
Pinterest
Speaking of Pinterest, the platform has spent the past two quarters making moves to show us that they're a serious eCommerce platform. Pinterest's goal is to become a top source for online shopping. The platform saw a surge in traffic due to COVID-19, and to capitalize on this, they are making moves that will only amplify online sales. In April, Pinterest launched an app on Shopify. Almost any merchant can now quickly upload their catalog to Pinterest and create shoppable Product Pins on the app.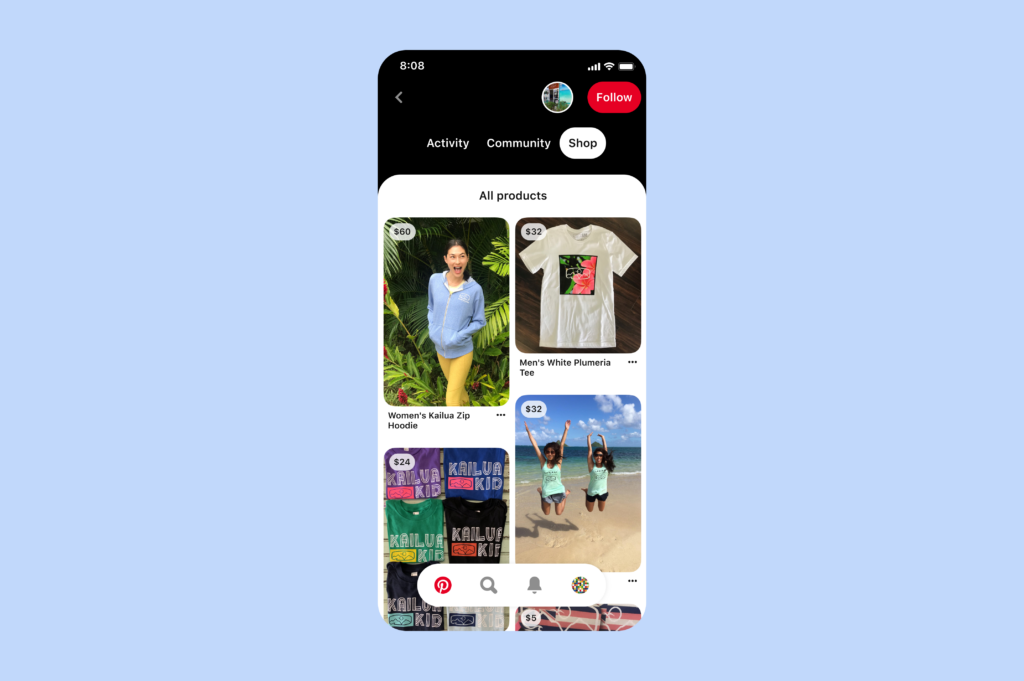 And the shopping doesn't stop with the new Shopify app. They also went a bit further with visual search by adding a 'Shop' tab to their visual lens. By clicking on the camera in the search bar, users can snap a photo or upload an older one in order to be presented with items for sale that are related to the photo. So if you need some inspo, you can upload photos and find new products that match.
Instagram
In April, Instagram made moves to increase its desktop functionality. Direct messaging is now available on the desktop site. Instagram's desktop site has been known to users and marketers alike for its limited capabilities. However, this is another move to rectify that. For marketers and social media brand managers, this will streamline the communication process between customers and brands. They can easily answer messages and manage their likes and comments on one device.
Remember when we said that Instagram wanted to make shopping easier? In late June, Instagram began testing shopping tags in post captions. When brands and influencers mention products in their videos, they can tag the products in the caption. Users can click on the tag to purchase it. With eCommerce becoming more integrated on social media sites, this will help influencers sell their products quicker.
Facebook
It looks like Zoom won't be the only app to help your team work together during this pandemic. In May, Facebook launched a Zoom competitor called Workplace Rooms, a feature in the Messenger app. Up to 50 users can meet for an unlimited time, which is a direct hit on Zoom, which only provides 40 minutes for free.
Also in that same month, Facebook launched 'Shops' for Facebook and Instagram so that businesses can easily set up online shops. According to Facebook, Shops will help every business, but especially small businesses that have had to close because of COVID-19 by setting up online shops to maintain a clientele.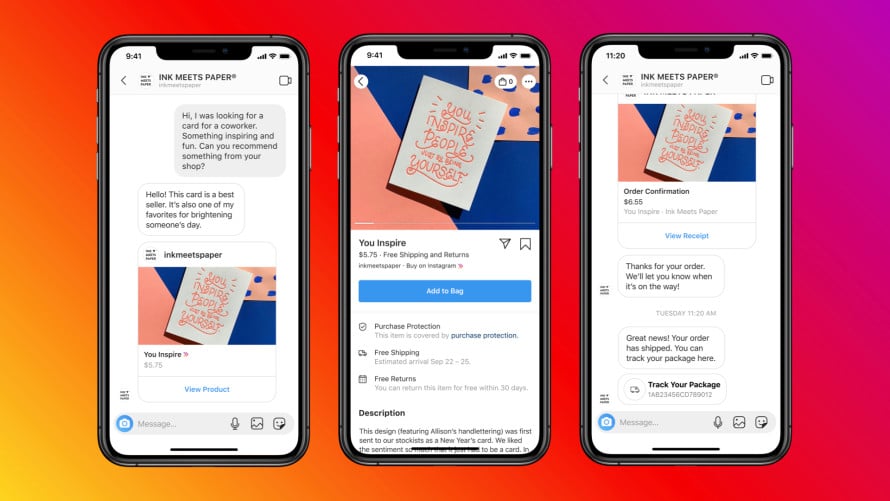 Finally Facebook found another way to help businesses and marketers by giving them the ability to run email campaigns. In early June, the social network added the option to send marketing emails through their Pages app. Companies interested in this feature have to first verify their company email address and then add the email contacts manually to start their campaigns. Additionally, marketers can use the feature to create the marketing emails as they would with other CRM software.
Twitter
Twitter users can now control who interacts with their tweets. In a move that has been discussed at Twitter HQ for over a year, users can select who they want to respond to tweets as they compose each message. The options are, "Everyone," "People you follow," and "only people you mention."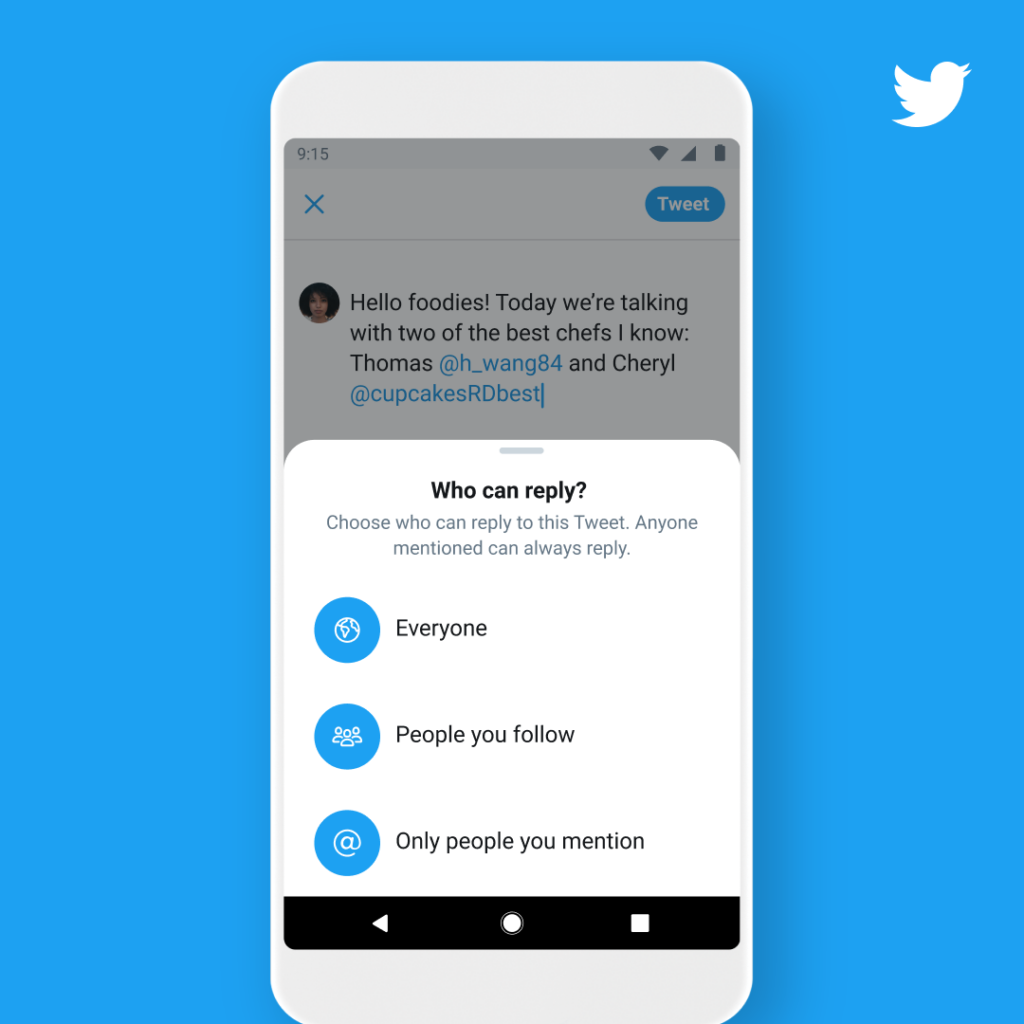 To end the quarter, Twitter launched audio tweets on iOS where users can record 140 seconds of audio instead of typing out their tweets. There were concerns from Twitter users that the clips can lead to harassment or aggressive replies, but users now have the option to turn off replies on tweets.
More in Digital News
It seems like social media and eCommerce always come hand in hand. In late April, TikTok began testing its eCommerce capabilities with "Small Gestures." Users can send free gifts to other users within the app. The gifts are promotional trials from their brand partners, but the program gives TikTok an idea of how eCommerce sales can work on the app.
LinkedIn is looking for ways to get users to engage with the app as they do with other social media sites by adding polls. The polls are meant for users and marketers to ask questions to everyone as status updates. Polls will be available within groups, which will give users a chance to provide relevant feedback from their members. The new poll option will get the conversation started through meaningful, industry-related questions.
We hope you found this recap informative and useful. We'll see you in October for a recap of the third quarter. In the meantime, have a great summer!
For more digital marketing updates, be sure to follow us on Twitter @ZoraDigital.
Zora Digital is a Chicago digital marketing agency. We help healthy lifestyle brands with a spirit of innovation navigate the digital landscape and create significant ROI.
Do you have specific questions about digital or social media marketing? Or need help with your own strategy? Let us know below: